Membership
Officers
President: Carter Clark
Vice President: Larry Wheeler
Sect/Treasurer: Vickie Clark
Membership Chair: Dale Oliver
Historian: Carol Doss
Meetings
Second Thursday of each month. Contact Larry Wheeler for location (541) 817-5044.
Dues
$20.00 annual dues per year, per family / increased to $30 on March 1st
$10.00 for 6 months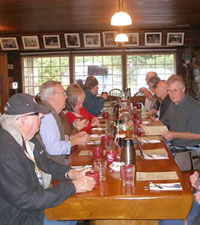 Annual Events
Represented on the Roseburg Graffiti Weekend Board
Indoor Benefit Show Thank You Picnic in May
Christmas Party
Club Member Benefits
Monthly meeting attendance optional.
Friendship and camaraderie of other car enthusiast.
Club jackets (optional): member buys the coat, club pays for the embroidery.
Caps – club provides.
Club discount on T-shirts.
Opportunity to support other community events and services.
Other car events to be determined.
Responsibilities: opportunities to support the club.
Spring Car Show participation: a) Committee b) planning c) event set-up d) ticket or raffle sales at door, e) take down and/or building clean-up f) fund raising, i.e., sponsorship sales g) banner and road sign distribution and retrieval.
Graffiti Week participation needed. Duties include:

Serve on Graffiti Committee
Distribute Graffiti fliers
T-shirt design and sales
Barricade acquisition and return to city lot
Bringing club trailer to library parking lot for cruise headquarters and manning during cruise
Supervision of designated posts on cruise (collection of entry fees, traffic direction, etc,)
Placing signs and cones or collecting signs and cones
Assisting Timberland Corvettes with Sat. a.m. Show & Shine
Clean up crew detail Sunday morning following Saturday evening cruise.

Annual elections for Board and various committee positions.
Mailing Address
Umpqua Flatheads
P.O. Box 1635
Roseburg, OR 97470